Anna Diaz

| December 23, 2014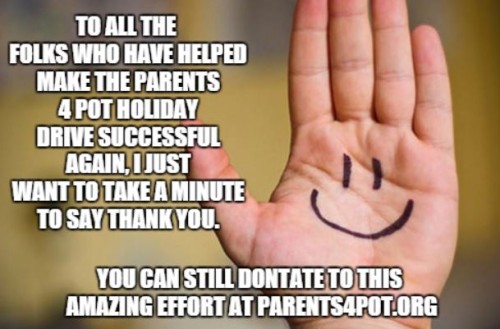 I am always amazed at the generosity of many of the folks that make up the cannabis community. When we started Parents 4 Pot a little over a year ago we wanted to make it an organization that helped find ways to directly affect the lives of families who are victims of the war on cannabis. Our mission is valid. We are here to be a dedicated voice for all families who support the end of hemp and cannabis prohibition. We strive to defeat the social stigma surrounding adults who use cannabis responsibly. We support a parent's choice to use medical cannabis to treat their children's illnesses. Our work helps families with cannabis related issues through education, direct action and organizational support.
The outpouring of support from large donors and small donors alike have enabled us to make a real difference in some families lives this holiday season and we want to personally thank those who have stepped up to make this a reality. Imagine being a kid whose dad has served a decade in jail while your family struggled, and to have gifts you want and need show up with the message "We think your dad is a hero... Love, Parents 4 Pot." Or to be a family torn apart having to move half of the family to a state with cannabis to treat your kid's disease, and struggling to make ends meet. When presents show up saying "We hope you are doing well" it is life changing for these folks.
As I sit here in tears thinking about the way people have given even when they had very little to make these families holidays special, I am truly honored to know you folks. I cannot express how grateful we are to have such an amazing group of support and kindness. It truly is touching... so THANKS to all who have helped.
If you still want to help there are plenty of folks on the list who you can still get presents for directly through Amazon at parents4pot.org. If you want to donate funds directly through PayPal you can do that with the email [email protected] I can assure you it will make you feel better and that your funds will go towards a noble and just cause. We are appreciative beyond words.
---